Now that I'm getting into my stride with these columns, I thought I'd tackle a harder subject than usual – a Russian pop band (You may get prompted to download Cyrillic language support by your browser, but it's not essential here).
What is harder is convincing you that t.A.T.u. actually qualify as music worthy of further investigation. I freely admit will be like trying to convince you that Ian Paisley once tried to join the Jesuits, but wasn't tall enough.
The group are comprised of two young Russian ladies - the dark-haired one is Yulia Volkova (born 1985) and the red-haired one is Lena Katina (slightly older, having been born in 1984, and armed with the much better singing voice of the two). While they had previously been in Russian kiddie pop group Neposedy, when Svengali-style manager Ivan Shapovalov took them under his wing he had a very different marketing angle in mind.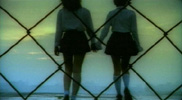 They burst into the Western consciousness in late 2002 with their single All the things she said (ß Ñîøëà Ñ Óìà – Ya Shosla S Uma 'I'm losing my mind' in the original Russian) the video has the girls standing in the rain behind a chain-link fence getting their school uniforms very wet indeed while they hug and kiss each other in a way that suggests they're very glad they both made it onto the lacrosse team. This video was unsurprisingly very popular.
They followed this up with Not gonna get us (Íàñ Íå Äîãîíÿò – Nas Ne Dogoniat). The video for this single was the first time I came across the band and it really impressed me. Mind you I was in a bar in Milan with a few beers onboard at the time and let's face it, Zucchero isn't as easy on the eye, especially on a big screen.
The video starts just pre-dawn with our young heroines sneaking across a frozen airfield dotted with heavy-duty Soviet-era cargo aircraft. Yulia steals a fuel bowser and drives off much to the misfortune of the bloke standing on top of the tanker at the time. Yulia always struck me as a bit of a handful in real life and her character in the video continues this theme – she dispenses with the need to stop and open a gate by simply driving through the back of an aircraft hangar and bursting out onto the road to make her escape. As she ploughs on through the frozen snowy wastelands the girls sing joyfully of the brighter future they face together, squaring up jointly against the prejudices and injustices of a world which can't understand or accept their young, pure ladylove.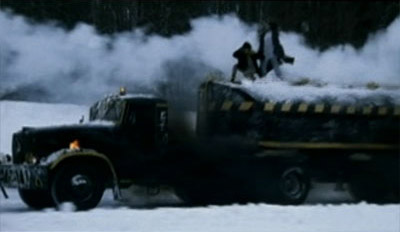 Nothing can stop us
Not now I love you
They're not gonna get us
However the future isn't uniformly bright, not least for the road worker they flattened as they careened down the road to their date with destiny. Also, in taking the short-cut off the airfield, Yulia managed to rip off half of the oil cooler and the remaining half has caught fire, billowing thick noxious smoke. So the girls do the only sensible thing that comes to mind – they climb on top of the fuel trailer for a spot of tanker surfing, holding each other for reassurance and the benefit of the adolescent male viewer.
Accompanying all this singles activity was the release of first album 200Km/H in the wrong lane (200 Ïî Âñòðå÷íîé) on the Universal label. Manager Ivan Shapovalov is named on the Russian language version of the album as the producer, but for Western ears and wallets a safer pair of hands would be required. Universal brought in Trevor Horn for the English language version of the album. Most famous for the nuance and subtlety he brought to Frankie Goes To Hollywood's Relax, not as well as his own band the Art Of Noise. True to previous form, Trevor Horn went for his established big sound producing an album with all the finesse of a pair of chipmunks backed by foghorns.
The album featured several fine pop songs – pre-eminent among which are the singles mentioned above in both English language and original Russian versions. Putting aside innate linguistic prejudices, it has to be admitted the Russian language songs flow better and are injected with more passion, which is why I prefer them – I was never very good at picking out English language song lyrics anyways. Other tracks worthy of mention are 30 Minutes (30 Ìèíóò) and Clowns(Êëîóíû) and an unsuitably chirpy cover version of The Smith's How Soon Is Now which really should have been left in the suggestion box by the bar rather than actually recorded.

Upon release of the album the media unsurprisingly ignored the music and instead fastened on the 'young lesbians in love' aspect of the story. This focus wasn't helped by the girls dressing in schoolgirl uniforms, cuddling each other at every opportunity and sharing a bedroom on their interview tour. There followed a predictable 'Ban This Filth' tabloid furore which did sales of the album no harm at all. Not too much investigative reporting time was wasted talking to Yulia's long-term boyfriend Pavel "Pasha" Siderov (they had a daughter, Victoria, in September 2004 after which the relationship crumbled). Even less was expended discussing the morality of manager Ivan Shapovalov having bedded his young (very young) charges prior to putting the band together.

But what could we realistically expect – t.A.T.u. is a manufactured pop band. They didn't write their own songs or play their own instruments. What could you possibly do next with such an outfit? That's right – the Eurovision Song Contest!
Russia was represented in the 2003 Eurovision contest by t.A.T.u. singing Íå Âåðü, Íå Áîéñÿ, Íå Ïðîñè (Ne ver, ne bojsya, ne prosi – Don't Trust, Don't Fear, Don't Ask). This broader exposure did not go well as the girls (Yulia in particular it has to be said) had descended into the sort of 'Do You Know Who I am?' divadom normally seen afflicting Maria Carey and Jennifer 'I'm just Jenny from the Block' Lopez. They found difficulty comprehending their not winning that competition such was their sense of entitlement at that stage.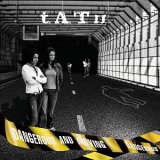 Things didn't improve afterwards. Their manager came up with the idea of their starring in a reality TV show which followed them as they recorded their follow-up album. Seventeen episodes of the show Podnesbaya (Under the sky) aired on the Russian STS channel. Their chief plot line was the girls arguing with Ivan rather than doing any actual recording. The girls split up with their manager shortly afterwards.
Rather than fade back into obscurity and day jobs as receptionists (If you think I'm being casually cruel, run an internet search for the names Althea Forest and Donna Reid sometime), the girls regrouped and formed TATeam – a group of writers, musicians and producers and brought out Dangerous & Moving (Ëþäè Èíâàëèäû Lyudi Invalidi) in 2005.

This change in management allowed the girls to throw off the oppressive shackles of the pop machine and find their true voices. Only they didn't bother.
Their second album sounds almost exactly the same as the first. Friend or Foe sounds like Michael Jackson's Human Nature with intrusive instrumentation. Standout track Gomenasai (Japanese for sorry) sounds like T'Pau in one of their less bombastic moments.
So why on earth am I writing about them? Well, you will notice that I've been providing the Russian language versions of the tracks. This is because I once had a Russian friend kind enough to buy me a copy of the original language version of the album 200Km/H in the wrong lane (200 Ïî Âñòðå÷íîé). Being the former auditor that I am, I actually compared the two and came up with several important differences.

As mentioned before, the Russian language versions of the song are more natural than the phonetically-enunciated English language versions. Secondly, they don't even contain the same songs – the Russian language album contains my fave track Äîñ÷èòàé Äî Ñòà (Doschitai do Sta – Count to a Hundred) which has yet to pop up on a Western album.
Thirdly, the album contains a number of remixes which were frankly better than the original tracks. And that dear reader, was where it began. The internet did the rest. If you look hard enough you will find many t.A.T.u. albums, not just the two we know in the West:
All the things she said (2002)
Duet (2003)
I don't swallow (2002)
Megamix (2002)
Remixes (2004)
Sex (2004)

Given that the group have only produced a certain number of songs and that there's a limit to the number of copies of Not Gonna Get Us you'll pay good money for, the answer is remixes.
Much like Depeche Mode, t.A.T.u. can sound much better in the hands of others and some of the remixes transport the music to places never intended by its creators. Click on some of the above to hear audio streams of the band mashed up with Rammstein, Slovenia's most famous metal band. Absolute favourites have to be the versions of Not Gonna Get Us and Ne ver, ne bojsya, ne prosi mixed up with Breathe and Firestarter by The Prodigy. That, Dear Reader, is why t.A.T.u qualify for a column of their own.