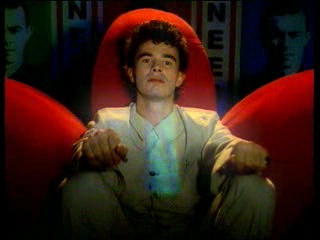 Unlike the other bands reviewed so far, Whipping Boy have been through the full gamut of band experiences Ė theyíve formed, had personnel changes, released a debut album to total public disinterest, paid their dues in the clubs, picked up a major label multi-album deal, released a second album to almost (but not quite) total public disinterest, lost a major label multi-album deal, released a third album to renewed complete public disinterest and split up in disgust.
And yet thatís not the end of the story. Despite the absence of any marketing push, or even the continuing presence of the band, album #2 refuses to die. It sells in small but constant numbers. Friends recommend it to friends. People hear it being played at parties or in student bedsits and ask what was that, then go get themselves a copy and continue the cycle. Muso-pseud alleged DJs play tracks regularly on late night indie shows and slowly, oh so slowly, the bandís reputation is established.
Whipping Boy were originally called Lolita and the Whipping Boy, but then Lolita became a born-again Christian and she attempted to proselytise to the rest of the band. Finding Jesus Loves You flyers covertly stuck into their coat pockets proved too much for the aspirant rockers and legend has it that a solo career was swiftly pencilled in for Lolita.

The four remaining band members (Fearghal McKee Ė vocals; Paul Page Ė Guitar; Myles McDonnell ĖBass and Colm Hassett on Drums) released an EP or two before pushing out their debut album Submarine on Irish indie label Liquid Records in 1992. Nobody noticed.
Then fortune smiled, an executive from Colombia Records saw the band perform live, liked what he heard and signed them up. The result was 1995ís Heartworm. Again sales were disappointing. The executive moved on and the band found themselves in the dumpster out back rather than in the green room.
While they set about recording a follow-up album, the rot had set in and the band formally split up on the last day of recording. 2000ís Whipping Boy was released posthumously. I only know one person who had a copy and they didnít rate it compared to Heartworm.

Heartworm Ė the album that just wouldnít go away. Heartworm is the reason Iím writing this review now. Heartworm is the reason Whipping Boy reformed in 2005 to play gigs again. Heartworm is a modern Irish classic. Why? An old-fashioned reason Ė strength of music. Whipping Boy are a gloomy gritty bunch. Having examined their CV, you could hardly expect otherwise. Their sound is old fashioned guitar Ė drums Ė vocals, but above all vocals. They have really strong imagery in their lyrics. Take the following extract from ostensibly joyous achievement anthem We donít need nobody else:
I hit you for the first time today
I didn't mean it
It just happened
You wouldn't let me go to the phone,
You wanted to make love and I did not
Now I know the distance between us
Christ, we weren't even fighting, I was just annoyed
Silence and you started to cry
"That really hurt!Ē you said
YeahÖ.and you thought you knew me
They come from a time before the Celtic Tiger when we didnít have much, we had struggled for what little we had and had to fight everyday to hold onto it. OK, they werenít always that gloomy. Debut album Submarine isnít that gloomy. In fact, itís pretty good. While the band have the distinctive sound that would develop through to Heartworm, they hadnít yet gotten grumpy about lifeís vicissitudes. Bits of it sound like Joy Division, bits of it sound like The Mission, bits of it sound like Snow Patrol have a copy of the album stashed away in their bedroom in a locked safe marked ĎSecret Plan For World Dominationí, parts of it sound like any other Irish rock band of that era (anybody remember Cactus World News?).
By the time Heartworm came along though, the idealism was starting to fray. It is full of songs about the joy of finding a relationship with a woman, the extra dimensions that builds to your life and how your personality, without any effort, slowly, constantly but insidiously poisons it. Take the lyrics from The Honeymoon is over:
A rambling rose with a musky smell walked
Into my life and told me things that I cannot tell
I'm gonna sow the seeds of doubt in your mind
Now I'm gonna change the way you wonder
The way you lie
But the beeps are coming baby and it's time to say goodbye
I'll phone you back again, I'll phone you back and lie
So you remember now how to get your story straight
I follow in your footsteps
I've been telling the same old lies
For the same old sake
So you remember now
What it takes to make a mother cry
You stupid boy
So you remember now
What it takes to make a woman cry
You silly boy

As you can tell itís quite a blokish record. Bloke opinions and perspectives backed by bloke music. Not a lot taken from the womanís perspective. Not a lot of feminine softness in the sound. And yet, they still have a tenderness of sorts. When We Were Young looks fondly back on adolescence, a time of confusion and uncertainty as the child emerges blinking into adulthood:
When we were young nobody died
And nobody got older
The toughest kid in the street
Could always be bought over
And the first time that you loved
You had all your life to give
At least that's what you said
The first time you got drunk
You drank pernod and dry cider
Smashed a window in as the police came round the corner
You didn't have no time to run
And your dad stood up for you
As the judge said you're a fool
And yet the overall tone is one of bitterness and struggle. Going back to We Donít Need Nobody Else, you can just feel the bitterness and resentment oozing through about the success of others:
They built portholes for Bono, so he could gaze
Out across the bay and sing about mountains
Maybe. You are what you own in this land
You can be King and it all depends on the view and what you can see
And they go on to express bitterness and resentment at the fraility of relationships and the imperfection of women:
It all came out tonight
The queen of drugs broke down and cried
'Cause she'd been shagging her best friend's guy
She knew the form, she knew the lie
She wasn't shy and she refused to try
That's why I'm gazing out of portholes
And I'm wondering why
Iím thinking itís probably something to do with the domestic violence. These guys canít be easy to live with. My advice to any woman involved would be to give up Ė youíll never replace their mothers in their affections, permanently sedate them with beer and football and then get on with living your separate life.
Anways, this is a music review, not Ask Abby. Heartworm is still available in the shops and there are plans afoot to re-release Submarine. I would suggest both are worthy investments. Hear samples of the music here.
Further information can be found at www.whippingboy.net and www.irishmusiccentral.com/whippingboy/index.html. Fearghal McKee is planning to bring out a sample album in summer 2006. See www.fergalmckee.com for more. Yes, I know thatís not how he spells his name, but hey Ė itís his website, not mine. Iím not going to tell him what to do Ė he might punch me!