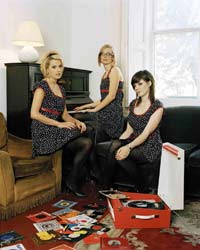 Sometimes an idea is just worth having. Promoter & guitar player
Monster Bobby
(probably not his real name) got together a girl band called 'The Pipettes' in 2004 to bring back the Phil Spector influences into pop (although obviously with less actual shooting involved). Think Dusty Springfield. Think Sandy Shaw. Think Tracey Ullman on Top Of The Pops with big hair and a pretty dress singing into a hairbrush. So he got three girls together and put them in pretty dresses. Then he got some blokes to join him backing them (dubbed 'The Cassettes') to let the girls concentrate on singing. Then there was a difference of opinion and one of the girls Julia Clark-Lowes left the group eventually popping up in another band
The Indelicates
, and another suitably blonde replacement was sourced.
To increase the mystique surrounding the band, the Pipettes are known only by noms de guerre - Gwenno, Riot Becki and Rosay. We know that Gwenno's real name is Gwenno Saunders, because she had a previous incarnation in Wales fronting Welsh-language TV program
Ydy Gwenno'n Gallu...?
The Cassettes probably don't appear in the publicity because frankly the girls are easier on the eye and why wreck a good media angle? Smart lad.
The Pipettes wrote an album's worth of songs and headed into the studio. Their album was issued on the very trendy Memphis Industries label and was produced by
Andy Dragazis
(better known to Sound of Music aficionados as Blue States and another fine contributor to the Memphis Industries label). Writing credits on the album go simply to the Pipettes, which leads one to believe the girls aren't simply for decoration as might be feared. Gwenno is reputed to be the main songwriter.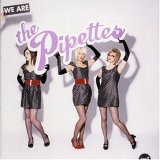 So what's it like then? Surprisingly good, actually. It would be wrong to dismiss the band as a gimmick, but they plough a very particular furrow. As expected, it is bouncy, happy, white girl pop. It sounds a little like Lily Allen in places (without the underlying ska influences) - such as second single Judy, it sounds a little like Tracey Ullman in places, but more than that it sounds of an era. It sounds very like 1980s pop in places. It sounds good. It beings a smile to your face. It's happy summer music to bop along in the kitchen to. It won't eliminate world poverty, but then again it's not trying to (and Bono won't succeed either no matter how hard he tries)
At this stage you're probably wondering why I've picked The Pipettes for inclusion in these hallowed columns. Well, recently I got an e-mail at short notice telling me that they would be doing an in-store appearance at Tower Records in Wicklow Street at lunchtime the next day. Now, in-store appearances can be lethal for bands. There are no backstage areas or green rooms in which vast quantities of drugs can be ingested. They get to perform live in front of their fans, close enough that people can tell if they're miming and without a cordon sanitaire of bouncers. It's a nightmare for the promotions people also. If too many people show up there's a minor riot and police baton charges. If too few people show up, the band's management are annoyed at your having wasted their precious time and you will be known forever afterwards as
Artie Fufkin
in the business.
Anyways I show up about one o'clock. There's a small crowd milling about waiting for the performance to start. There's a slogan on the inlay for The Pipettes' album which declaims that theirs is "music by teenagers, for teenagers". This would appear to be a big fat lie. While the girls are just out of their teenage years and looking none the worse for it, their audience has not fared so well. In fact there were so many guys in their late thirties in casual clothing with a bit of a paunch and retreating hairline that I was tempted to wonder aloud who was minding the comic book store while we were all here?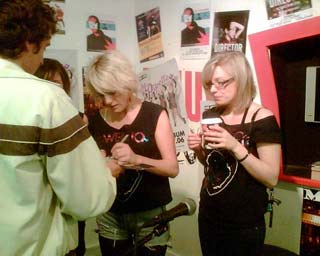 In a bizarre sight, The Pipettes are also here waiting for the performance to start. They're wearing monogrammed T-shirts and are idly rifling through the racks while waiting for a suitable power outlet or somesuch to be located. Despite the fact the girls are wandering around in plain sight without minders, they're being completely ignored by the assembled audience who are politely standing around not five feet away pretending not to see them despite having obviously travelled some distance just to be in their presence. Then I remembered Comic Book Store Guy wasn't noted for his social skills.
Anways the performance gets the green light and the girls take their place on the dais to perform three numbers. While a little thinner live than the output on the album (and obviously without the sweeping string arrangements), the girls acquit themselves creditably. Having finished, they put the keyboard away and remain in their seats to, well, talk to the fans, sign autographs and stuff. To my utter surprise, the assembled Comic Book Store Guy group turns and leaves immediately. Where are they going I wonder - it didn't look like they had anywhere important they needed to be in a hurry. Anyways, their loss is my gain. I bought a couple of copies of the CD and took them for autographing. Because there was no assembled throng, I got to talk to the band for about five minutes. They were lovely and friendly. They posed for photographs. They were happy and optimistic. They were exited about their tour and they were very, very polite when talking to me. I felt very old.