There's a big world out there and what could be a better use of webspace than putting up a load of holiday snaps of my mates drinking in foreign pubs and gurning for the camera? Well for a start, it's not the Three Rock Mountain way. I don't have that many mates; They wouldn't come on holidays with me if I paid them (there's only so much guff about obscure music bands a person can listen to before getting an irresistible urge to murder) and most importantly, I tend to drink in the mornings on my own.

OK, in case you're my mother or my employer, that last bit was a fib. But anyways, I've never been a big fan of the unedited gallery of uploaded holiday snaps (although you do espy occasional unintended nudity - some bloke's girlfriend reflected in the mirror changing clothes while he takes yet another shot of the hotel balcony - ahh, simple pleasures!).

Nor do I countenance fuzzy shots of restaurants you wouldn't enter even if you were a public health inspector accompanied by witless commentary about how cheap the Sangria is. No, Three Rock is going to plough its own furrow and do things in its own way. No change there, then.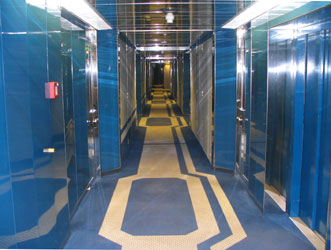 Well OK, one quickie exception. The picture to the right is of the corridor leading to my room when I stayed at the five-star Kempinsku Hotel Geneva on a business trip once. If you look at the hotel's website, you see pictures of large airy suites ("decorated with taste, it even has a private lift to take you to its world of marble and luxury. Bella Vista is made up of a large panoramic sitting room with a dining room area for 20 guests, a bar and equipped kitchenette...The master bedroom and its adjacent bathroom with Jacuzzi are the utmost in comfort and style, not forgetting the study as well as another guest room, each one offering its own bullet-proof windows installed to make this an exclusive resting-place.") suitable for the choosiest of Gangsta Rappers, their associated posse of bodyguards, homies from da hood, hoes and trainer stylists. It takes a big crew to ensure you get your sneakers box-fresh every day, Homie!

Apart form the fact that they actually have and advertise that they have bullet-proof windows, what I mostly remember about the place was the epilepsy-inducing corridor . The ceiling was mirrored ("You like the hallway? Wait until you see the leopardskin-print sheets and mirrorball in the room, Baby!"). The walls were coloured and mirrored (a difficult combo to pull off). The lighting was sparse yet harsh. Best of all was the carpet - the pattern seemed to reverberate in your head like a hangover. The overall effect was like having been drugged and waking up on the spaceship Solaris. Best of all, every floor was identically decorated - but with a different colour. To this day I give thanks that I was billeted on the blue floor, not the green or orange floors.

Anyways on with the Three Rock Mountain Guide To The World:

Koblenz - much more than two rivers and a big statue of a bloke on a horse.
Turlough - much more than a right turn off the Castlebar road.
Manchester - much more than a load of druggies hanging around in baggy trousers.