Manchester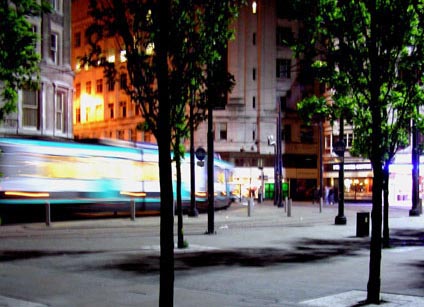 Old Trafford, the Stone Roses, the Happy Mondays, the Hacienda. What do these things make you think of? Ok, drugs. But, apart from that? Manchester, that's what – or where. And, while skag and blow are still, charmingly, very much a part of the city's landscape, it has significantly more to offer. With this in mind, I have compiled a small travelogue for those contemplating a visit to this "Naples of the North".
The comparison with Naples is more apt than you might think at first glance. Naples has changed a lot since your parents went there in the 1970s. Now, not only is it cholera-free, but it also boasts a gargantuan crime rate and an old crone on every street corner selling contraband cigarettes. Some of it is very picturesque – the pizza I had for lunch, for example, was very beautiful indeed. To be honest, Manchester is a great deal safer (at least during daylight hours) and, while its pizzas may not quite meet Neapolitan standards, its Asian food (try Chinatown or the "Curry Mile" just outside the city centre) could comfortably compete with, say, Brick Lane.
Have I whetted your appetite? Well, talk amongst yourselves while I get on with this….
Hotels
You'll need a hotel. You could sleep on the street, but it gets rather crowded, and, to be honest, it helps if you "know someone". My visits to Manchester tend to be work-related, and the process of wringing expenses out of my employer is akin to nailing jelly to the wall, so I generally trawl the Internet for good rates. However, this means that I have stayed in a different hotel every single time that I have been there, about twelve times in all – luckily they are generally not the type to provide a loyalty bonus. I can recommend a hotel for every occasion – the one where the showers don't work (if you prefer the "natural look"), the one where you can hear absolutely everything else in the hotel (if you tend to get lonely), the one with the tiny but humongously expensive room service menu (if you are feeling flash but are on a diet) and the one that looks like a relic from Queen Victoria's heyday, complete with chandeliers, excessive amounts of ormolu and a waiting staff that sings "Any Old Iron" at breakfast (OK, that's a lie, but it should be true).
After you have unpacked and are comfortably ensconced, you might like to get something to eat…..
Food
I know that these days we are all concerned with healthy eating, reducing our fat intake, eating more fruit and fibre and so on. Well, you're in Manchester now, so you can forget about that. Dinners are easy. Try something ethnic. Chinatown is good, and the largest in the UK. Smack in the city centre. Yes, there's that too, but I mean "exactly" in the city centre, so pay attention. The best meals here are usually to be found up the stairs of somewhere that looks like a grocer's, and probably is. Looks terrible, and produces the best Chinese food you have ever eaten.
Snacking is no problem – in fact it is a local pastime. Being a student city, Manchester has hundreds of places offering cheap eats, but I can particularly recommend the toasted egg and sausage sandwich in a greasy spoon just off Piccadilly, with a kitchen the size of my mother's and a menu that would put Gordon Ramsay to shame. No? OK, Anthony Worrall-Thompson, then. If you can't quite stump up the £1.50 for that, try the cart on Oxford Road just before Manchester University, providing baked potatoes, burgers, deep fried pies etc. And, if you're polite, they'll even scratch a body part before preparing it (I think its lucky or something).
Are we replete? Good. Time for some shopping….
Shopping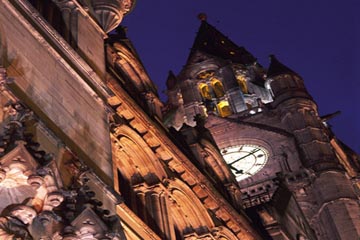 In recent years, Manchester has become a shopping destination to rival London (hushed tones), mainly because of the large amount of football-related disposable income floating around. Posh may have moved to Madrid, but her acolytes live on, generating healthy profits at Harvey Nichols and Selfridges in the Cathedral district. You don't have to get into this, of course. There are cheapo options galore for the canny shopper. TK Maxx is a well-kept secret. Those of you who have visited the Dublin branch in Stephen's Green will find this difficult to believe, I know – all that's usually left there is an Elle lime-green polyester hoodie and a pair of size 2½ flip-flops. Manchester is different. The vast majority of Manchester customers are young clubbers (Primark is upstairs) or, how shall I put this, people of a certain religious persuasion who like to cover themselves up. So, while they are searching for a gold lamé catsuit with matching platforms, or an Adidas hijab, you can bag the good stuff.
For those who like to be seen in something truly unique, try Affleck's Palace. To Dubliners, try to imagine that Temple Bar is vertical rather than horizontal – if they took all those shops that smell of weed and stacked them on top of each other – that is Affleck's Palace. The stock consists of T-shirts with "mad" slogans, endearingly home-made clothing and accessories and sex toys. There is also a vintage clothing section that smells as if it should be (or has been) condemned. You have been warned.
High street junkies should simply get on the bus to the Trafford Centre – the largest shopping mall in the known world, or something. Plus, your inexplicably dull boyfriend can visit the United grounds and point happily – "Football".
You might also attempt to combine shopping and culture – or pretend to – by visiting Manchester's only outlet mall. This is located at the Salford Quays, beside the Lowry Museum, and, unlike the Lowry Museum, is not worth visiting at all. Outlets are funny things – so much promise and so little delivery. This one has a Molton Brown, which is not bad, and a Marks and Spencer, which is. It does solve a mystery, though. There are times, I'm sure you have noticed, when you look at people, sometimes entire groups of people, and wonder where on earth they could have gotten their clothes – women who work in libraries, men who wander around DIY stores. What kind of place could possibly sell clothes like that? You don't know, you've never seen them anywhere. Well, most of them are here.
Moving along, you will enjoy the Lowry Museum. Don't miss the film at the beginning – Lowry was completely nuts and a great deal more interesting than I thought. Their collection of Lowry art is wonderful too (about 350 of his works) and they have different exhibitions on all the time. Then have a cup of coffee and get the tram back into town.
I do apologise, but that is the extent of my cultural experience in Manchester. I did say that I am usually travelling for work, and time has not really allowed for more "improving" experiences. Not once the shopping was done, anyway. I understand that the Whitworth Art Gallery, Manchester Museum and Imperial War Museum North are also worth a visit – but what would I know?
Anyhow, we have packed a fair amount into our day, and all that remains is a stroll around the city centre before dinner. Albert Square, Piccadilly Gardens (now almost thug-free) and the Triangle are all quite pleasant, before popping into the elegant Midland Hotel (listed, you know, and where Rolls met Royce) for a drinkie.
Time now to say farewell to Manchester, rough gemstone of the North. Give it a try. You could be in worse places – Naples, for example. Just remember to stay indoors on match night.