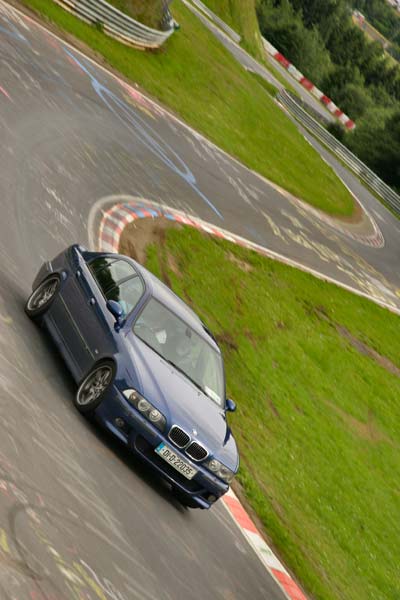 Despite the multiplicity of pages on this site devoted to the topic, I'm not an expert on the Nürburgring and acknowledgement of my own mortality precludes me from ever becoming a racing driver (as indeed does age & weight, but let's not get too personal).
It was a year since I had last driven around the Ring. This time the car was significantly more powerful and, more importantly, owned by me. I resolved to take it easy. One difference that leapt out is that the BMW M5 is a very fast car when you put your foot down and keep it there. I mentally moved my braking points a little further back from the corners. The car handled well through the corners at Hocheichen. We went light over the crest at Quiddlebacher Hohe and the ABS then kicked in very ineffectually before we scrabbled dirtily round the corner at about 70mph. I'll brake earlier for that one in future too!
I ran out of bottle on the long straight section to Schwedenkreuz, topping out at about 125mph. The corner at Aremberg was fine, but I ran out of bottle again almost immediately on the long downhill plunge to Fuchsrohre. Being on the right side of the road, in the right gear and remembering in advance that the corner tightens at Adenauer Forst meant that too was a doddle. I remember Metzgefeld as a nasty, bad-tempered corner - all risk and no fun, just slow down and go around it. I remember not getting the hang of the sequence after Wehrseifen but not caring, because getting it around that corner and not stuffing myself at speed into an earthen bank was more important to me.
I remember performing equally competently at Breidscheid, which is like Wehrseifen but with more spectators. I remember paying tribute to the 7 Second Ringmeister as we climbed Ex-Muhle. I remember being invigorated at the power displayed in climbing that hill. I remember my relief when I spotted Bergwerk in plenty of time and drove around it like a granny.
I remember bottling it again on the long fast section to Steilstrecke. There's something about piling down what is effectively a narrow, bumpy country road at speeds verging on 130mph which requires more bravery or recklessness than I have to give. I remember getting my placing for the Karussell just right and being popped out of the end like a cork out of a bottle.
I remember it starting to rain. I remember fear and dread welling up inside me. The Ring in the wet is a very different proposition from in the dry and is not where I wanted to be. The twisting, technical sequence of Wipperman 1, Wipperman 2 and Brünnchen went well, the M5 right on its line with tyres squaling constantly for the delectation of the spectators. I managed to stay on the asphalt through Pflanzgarten - remembered to brake well before that jump, at least! I started to unclench a little going around Klein Karussell as the windscreen wipers continued their metronomic beat.
Not far to go now. Galgenkopf. Over to the left, brake by the yellow graffiti and turn. Brake. Turn. Nothing. Straighten wheel and brake really hard. ABS kicks in. Still not any slower. Wet myself with fear. Turn in again anyways. Car goes around albeit not prettily. Think about swearing like a Glasgow docker. Remember that Mark has his camera on and it would be all over YouTube by tomorrow. Coast down the finishing straight and back to the carpark.
I remember being appraised of the condition of my brakes by the 'tink-tink' noise they made as the overworked discs attempted to shed some of the enormous heat they had absorbed, pushing off waves of heated air visible from a considerable distance. Maybe I shouldn't push the brakes too hard this weekend.
Back to Part 4: The view from the passenger's seat
Back to Part 3: Endlich da!
Back to Part 2: Bruges
Back to Menu