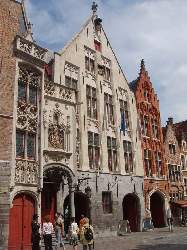 We arrived in Bruges late in the evening, our sat-nav grasping at straws as it attempted to guide us through narrow medieval streets bereft of conventional junctions; our final destination seemingly close to hand yet tantalisingly out of reach. It was getting late. We didn't have much time for tasks other than rest and replenishment that evening - our tales of adventure in that dark night will be recounted elsewhere - but in the sober light of dawn we had time take in the wonder that is this medieval equivalent of New York or Tokyo.
Like upstart Brussels, it is a defensively ringed city. Brussels is surrounded by multi-lane motorway, Bruges is surrounded by its predecessor form, the canal. Bruges (or as its Walloon-despising natives more properly call it - Brugge) was a hugely important seaport, garnering the huge prosperity that came with the status of entrepôt until it all silted up. Not having invented the dredger yet, the good citizens of Bruges realised they were stuffed and concentrating their energies on producing naff lace and a devastating range of flavoured gins to sell to tourists.
The maritime trade moved downriver to Zeebrugge (literally Brugge-on-Sea, Ha-ha!), which nowadays mainly consists of trafficking British tourists who want to visit the mainland but who harbour a pathological dislike of the French.
The burghers of Brugge took pride in their merchant heritage, their market square, their town hall, their fish market and decided to themselves "We can use this to sell tat to geriatric foreign tourists!", thus unleashing a new era of prosperity and purposeful direction. The gin shops and restaurants prospered, the streets along the city walls thronged with well-heeled bourgeois shoppers drifting between Hema and Petit Bateau in wide-eyed wonder at the range of consumerist options the like of which you wouldn't find on the streets of New York, all of it backed up by those omnipresent lace shops for authenticity and heritage.
Most notable for me however was the unusually clean streets, the strategic positioning of a major civic building, church or square every couple of blocks, and the non-intrusive music piped onto the streets all from the same central source…oh, oh! I'm trapped in Disney Belgium! Will I ever find my way out through this maze to the ring road or will I be trapped Prisoner-style, sustained by but resenting a diet of top-class thick black coffee and sweetened waffles?
Finally reaching our hotel rooms and having telephoned our loved ones to let them know of our safe arrival, we did what any self-respecting blokes would do - had a quick wash and headed off for beers.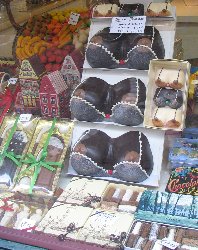 We had arranged to meet up in reception before heading off on our beer quest. While waiting for Mark, John & I had a quick beer in the hotel bar. The hotel was not a busy one and the receptionist was doubling up as bar staff - it was that sort of continental hotel that has a bar primarily as decoration. In Ireland a hotel is more commonly a pubthat has some rooms attached for tax purposes and is run accordingly. In Belgium, as in most of continental Europe, they don't seem to experience the same life-threatening thirst that the Irish do. The nice young lady was perectly happy to have some customers to serve at the bar although she seemed a little unsure of the precise mechanics. In fact, it was so long since she had seen any customers that she actually had to look up the price of draft beer.
Now, I have to confess I have prior form when it comes to Bruges. John used to live in Brussels and he took Mrs. ThreeRock and me on a trip there once. We went to a restaurant some friends of his had recommended called De Hobbit where we had a big plate of barbequed ribs before moving to an adjourning hostelry and starting in on a large and varied selection of flavoured gin shots. To this day, I have no recollections of how we got back to Brussels, save that I woke up with the mother of all hangovers the next day.
With this cautionary tale still fresh in mind, we set off to find De Hobbit and repeat the experience, as evolved males do. Time however had moved on. The gin shop had closed its doors (presumably on public safety grounds). De Hobbit's reputation appears to have flourished, presumably due to its inclusion in some travel guide as the neighbouring pub was full of American tourists and students who had either just been their or were about to descend upon it. We resolved to get there ahead of the rampaging hordes and knocked back our aperitif beers.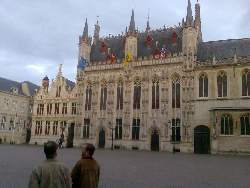 We headed over to De Hobbit, took a table and ordered some beers. We noted with interest that the restaurant was offering a menu formule which included barbequed ribs à volonté, or as Homer Simpson would properly recognise the dish "all you can eat", with a starter and coffee thrown in. The starter turned out to be cubed cheese with a mustard dip accompanied by a glass of port wine for flavour. To our palettes, port and cheese seemed a post-prandial offering, but we gamely decided to expand our experiences. Resolving not to fill up on the proffered bread, we started in on the main course of barbequed ribs in the unreconstructed fashion only a bunch of blokes on tour can muster. Civilised and dainty, it wasn't.
Having been on the road all day, we had worked up quite a hunger and gladly accepted the offered replenishment plate. This sated the majority of our needs for nourishment, but I still felt something of an emptiness and requested a third serving. The host may have been somewhat dismayed to see his margin on the meal disappearing with such rapidity for a much smaller plate of ribs appeared, served with a look that clearly conveyed that for M'sieur, the kitchen was now closed. Maybe this would have been taken in better heart by the management if they were more clearly noting the quantities of expensive alcoholic beverages we were consuming, having shifted from our intial beer-swilling to a more civilised demolition of the restaurant's stock of Côtes de Rhône.
All the while, other customers engaged in deep philosophical and political discourse around us. OK, no - to be perfectly honest, they were Americans and they talked about sports or randomly exclaimed "Ohmigod!" in loud voices according to gender. There was one exception to this throng - out of the corner of my eye, I spied one tall, quiet and impossibly thin, with a long proud mane of blonde hair and piercing blue eyes…and completely androgynous. I began to feel like the Gods had dropped me into the plot of Death In Venice to see how I would cope. Naturally, I decided that 'Bird or Bloke' would henceforth become the theme game of the holiday and it became one we enjoyed playing in many venues, although it must be said after this initial championship tie-breaking example the majority appeared to be of the female tractor mechanic variety.
Back to Part 1
Back to Menu