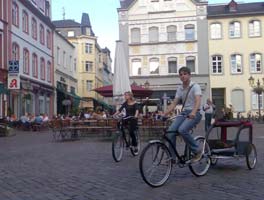 Saturday morning broke overcast but dry in Koblenz, barely noticed by three well hung-ver Irish blokes who unapologetically blew off their 8:30am rendezvous in the breakfast room of the hotel. As I've previously mentioned, Koblenz is a pleasent enough place to stay. Unfortunately the late finalisation of trip numbers meant that I was unable to adjust our initial booking for a boutique hotel in Jesuitenplatz in the Altstadt and we ended up staying in a generic business hotel a bit further out. Given that it was just off a main road and it came with its own car park, this was probably just as well.
Scarily enough, our Olympic-standard hangovers did not mean that we were the slowest-moving objects in the breakfast room! Koblenz is the largest town for some distance around. It sits at the confluence of the Rhein and Mosel rivers and is a gateway to wine country. As such it fulfils a Stygian destiny as the budget hotel location of choice for the Saga Holidays set - a netherworld of crumblies on improving, educational coach tours, presumably to atone for a lifetime of drunkeness, gambling and easy virtue.
Having suitably fortified ourselves for the day's activities and successfully negotiated with reception for the issuance of a replacement car park ticket (yes, the original did show up that afternoon, stuffed in the bottom of the GPS bag for overly safe keeping) we sallied forth...as far as the kitchen loading bay until the GPS could get its act together and tell us whether to turn left or right at the junction. It wasn't just the humans that were slow off the mark this morning, it seemed. Now, there is always a sense of occasion when one arrives at the Nürburgring. The excitement builds gradually from when you pull off the Autobahn at the sign indicating the way to the Formula One races. You start to pass roadsigns with names familiar from your knowledge of the track - Adenau, Hohe Acht. You notice the other road traffic seems to contain rather more Porsches that statistically normal. You start to catch glimpses of the track itself through the trees and finally you pass under the start/finish straight by the Dottinger Hohe petrol station. Presuming that you're not caught out by the immediate acute left turn, you're finally in sight of your goal, a long straight road book-ended by carparks containing unbelievable numbers of high performance cars. You start to feel the adreneline flow. You start to hear the music well. You're here.
Or rather you would be if you could find someplace to park. The upper and lower car-parks that surround the track entrance lane are the automotive equivalent of Monaco harbour in August. As well as being the place to be seen, it is horrendously crowded. You might have to drive around it five or six times before you spot a realtively under-occupied curb you can bump up against. In truth, this forced recirculation suits some folk just fine. After all, what's the point in blowing all this money on such a fine automobile if people don't have adequate opportunity to adminre it, after all?
I like to think that I'm above all that oneupmanship, but in reality I'm just a wuss when it comes to parking, so I always head directly to the overflow car-park. There are two elements to this - a lay-by area ringed by large boulders and visible from the road, then there's the large muddy field ringed by trees beyond. We planted the M5 in the large muddy field and I took John and Mark across the road to show them the layout.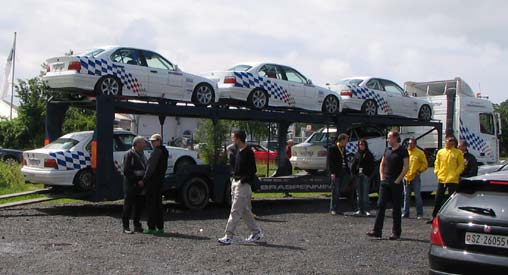 The lay-by was crowded with a very serious-looking crowd of Dutchmen who had brought a fleet of race-prepared BMW 3-series on a transporter lorry. These alpha males were obviously intending to dominate the track for the weekend in a show of brute force and numbers. While working up to their invasion, they were hanging around doing typical alpha male pursuits such as wearing sunglasses, looking well hard and revving engines for no apparent reason. Hilariously, it would appear they had overlooked the need to bring road-legal cars. At some stage a curious official wandered over and informed them in no uncertain terms that they were welcome to pose in the lay-by all they wanted but there was no way they were getting onto the circuit without registration plates and tax discs. Oh, how we laughed!
The layout at the Ring entrance is very simple - short road off roundabout leads to track. Carpark to the left. Carpark to the right. Cafe and toilets just to left of road, track control at entrance to track - any questions? I went and bought a lap ticket in track control, we all had a Coke to steady our nerves and returned to the car to do what we had come here to do.

Onwards to Part 4: The Passenger's view
Back to Part 2: Bruges
Back to Menu