...Bergwerk...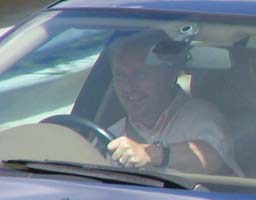 But it's not all race-prepared trackday specials you'll encounter at the Nürburgring. The ordinary German citizen will participate also. It's not unusual to see a family car on the track: der Vater at the helm, die Frau sitting patiently beside him with two excited and terrified kids strapped into the back as the suburban Audi hauls itself through the Pflanzgarten complex, little Karl's crisps strewn all over the back of the car since it became briefly airborne at Flugplatz earlier on in the circuit.


...Kesselchen...
Case in point, let's take a look at the family BMW estate I included on the previous page. If you look closely through the windows, you can see the stereotypical family I've just described. Now, thanks to the magic of Photoshop, let's take a closer look at the paterfamilias. The picture to the right clearly shows he's having a whale of a time. Is he worried about cooking his brakes and ruining his tyres? No. Is he worried about his wife constantly telling him to slow down because it could be dangerous? No. Is he worried about how he's going to clean all the dropped crisps out of the back of the car? No. He's thinking about what a blast he's having. He's thinking about how he's coming back next weekend without the family - just him and his mate, Gunther - and what a time they're going to have. That's the bewitching magic of the Ring.


...Klostertal...
But it has to be said, the hardware on display is amazing. On my first day there, something burbled nonchalantly past me at knee height. I didn't think hobbits drove cars. I looked down to see a Koenigsegg CC8S, a hand-built Swedish supercar so rare I'm not even sure how to spell it.


...Steilstrecken-Kurve...
There are many variants of Porsche 911 to be found there. Let's face it - If you had a 911, you'ld bring it for an outing, wouldn't you? You get everything from standard issue Carrera and Turbo models to obscure variants such as the GT3RS (available in white only - your colour choices are limited to garish red trim or garish blue trim). The RS stands for Renn Sport (Racing Sport) lest you were under any illusion that the rest of the Porsche line-up were a range of farm tractors. But there's always a bigger fish.


...Karussell...
Imagine finally taking delivery of your 911 GT3RS after the excruciating three year waiting list. Obviously, once you've got it out of the wrapping the first thing you do is take it to the Nürburgring to show off. And what happens? Some bloke fresh from laundering his money in Geneva, driving a 911 GT3-RSR with Arabic plates comes and parks beside it. D'oh!


...Hohe Acht...
As you might guess from the panoply of lettering, the 911 GT3-RSR is an even more extreme version of the GT3 (which itself was no pussycat to begin with). If the GT3 is meant to be used as a racer and the GT3RS is really meant to be used as a racer, the GT3-RSR is meant ONLY to be used for racing. Like the Le Mans 24 hour race and stuff. Yes there is a GT2 and even a GT1. Lord only knows what they're intended for. Moon-shots and the like I suppose.


...Hedwigshohe...
Anyways, the idea is that you keep your 911 GT3-RSR locked up in a stout metal cage between races. These cars are not meant to be driven on public roads - they are creatures of the racetrack. They are sold without handbrakes to keep the weight down. You can have one fitted if you want, but it's an optional extra. Yet here they are, rocking up in the Ring public car park, sporting registration plates and presumably a handbrake (or at very least, a chock behind one of the wheels)


...Wipperman...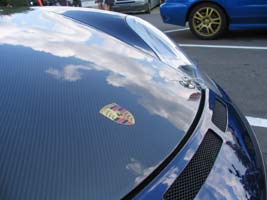 And still that's not enough for some...One day I saw a 911 GT3 Cup sitting with its brethren in the Porsche corner of the car park. OK, let's take a step back. All these numbers and letters are confusing even me. The 911 GT3 Cup is the car you see in the support races at Formula One meetings. Their owners are the sort of people who can be trusted to blat around Monaco, Silverstone or Barcelona without undue risk of ending up as a tangled heap of metal and oil for Michael Schumacher to gingerly pick his way around later.


...Eschbach...
And yet, here's one in the car park. Devoid of sponsor stickers and lurid colour scheme, its bonnet a single piece of carbonfibre; the title 'GT3' cut through the uprights of massive fixed rear wing. Even the Porsche badge on the bonnet has been replaced with a varnished-on sticker to save an all important gram or two in weight for this thoroughbred racer. Pure automotive pornography.

Next...The Attitude