...Brünnchen...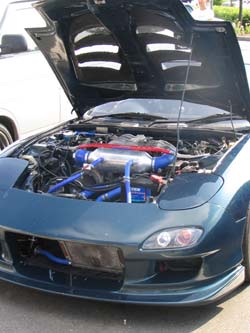 But the great thing about the Nürburgring is that there isn't a crass display of wealth of the chest-beating "I'm richer than you and don't you forget it, pal - just check out my toys" sort that one sees so often on the French Riviera. These top-of-the-range cars are owned by people more concerned with anti-roll bars than breast augmentation surgery (either performing or sponsoring), or indeed any of the other outward trappings of the International Playboy lifestyle. International Playboys are not famed for putting themselves in harm's way. You certainly wouldn't see them on the track it's just too intimidating for the boulevardiers. Similarly, hanging around the carpark isn't a fruitful use of time for the poseur either - there's just a bunch of adrenaline-crazed leather-clad bikers, no pitlane girls nor aspirant models yearning to bat their eyelids and hang on your every bon mot.


...Eis Kurve...
And that's when I noticed how few Ferraris there were around. The blood red standard bearers of Italian racing passion were simply not here. Stuck in first gear cruising up and down the Croisette in Cannes certainly, but not up here in Germany doing the job they were made for.


...Pflanzgarten...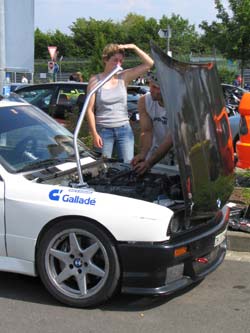 I think that Ferrari has developed an image problem. It has graduated from racing icon to status symbol, purchased to flaunt wealth rather than the old day job of going around corners faster than the next guy. A very profitable and indeed durable market positioning to be sure, but one that cuts little ice with the speed freaks at the Nordschleife.


...Schwalbenschwanz...
The great thing about car nuts is that for them, wealth is only important in that it will permit you to purchase a faster car. And if you're not yet in the Greek Shipping Magnate league, doing the best you can with what you've got is still perfectly acceptable. It's a question of attitude. You can walk up to some guy with a piece of wheeled exotic worth more than your house and say to him "Nice car, mister. How fast will it go?" like a 10 year old schoolboy and the owner will stand there and proudly tell you all about it. In fact, you may have trouble shutting him up! As I said, it's a question of attitude.


...Kleine Karussell...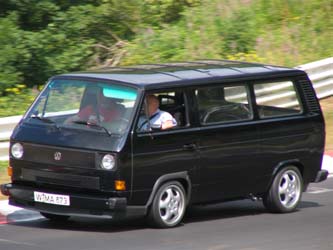 So what was the coolest car I saw at the Ring during my visit? Actually it was a black VW Caravelle, the people-mover variant of the VW Transporter 5 ton van. It was driven by a bloke whose left elbow was sticking out of the window while he chatted to his mate beside him, all the while harrying a brace of Porsches and a BMW M3 as the group scythed through the Brünnchen complex in tight formation. Respect.


...Galgenkopf...
I'm sure you've guessed by now. The last four pages have been punctuated with these weird Germanic names in yellow, heading up each paragraph. In real life, they're the names of the corners at the Nürburgring. Like the course itself they're big and difficult to vocalise. If you've lost count of how many have appeared over the past few pages, can you imagine how difficult it is to remember the real course layout? Especially in a speeding car which has you in it? While driving? Truly a monumental life experience.

And now for a little light relief - the second most popular sight in Nürburg: Sabine