One of the tragedies of modern life is, as The Stranglers famously put it, that there's no more heroes anymore. Someone to take notice of however is Sabine Schmitz. Born Sabine Reck in 1969, she's a little known Porsche 997 racing driver for Team Frikadelli in Germany.

I admire her because she's a woman in a man's world, epitomising the true spirit of feminism - not looking for special treatment, just getting on with the job regardless of gender. You could be cynical and make the accusation that the kudos may have something to do with the fact that she's a tall, thin, blond German with her own Porsche racing car and a smile a kilometer wide. An alternative opinion from the cynical perspective is that she's a gobby attention-seeker with possibly one Y-chromosome too many. But that would just be sourness.

She's best known in this part of the world for occasional appearances in car-based talkfest Top Gear which is essentially a vanity project for former journalist and walking prejudice generation machine, Jeremy Clarkson. Jeremy once set himself the task of taking a new car, a Jaguar S-type diesel round the Nürburgring racktrack in under ten minutes. He frankly struggled with the task.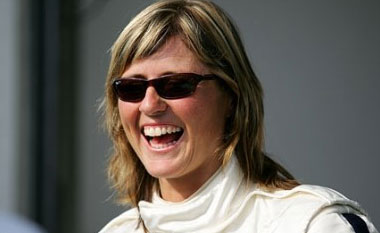 Sabine's day job is working for BMW driving a taxi round the Nürburgring...well no ordinary taxi. It's a 500ps BMW M5 and gets replaced every year for a new one. It goes through a couple of sets of tires a day. Sabine gave Jeremy some pointers. They didn't work - probably because Jeremy wasn't listening.

Anyways, Sabine finally took him in hand (ooh-err!) and chauffered him around the circuit a full thirty seconds faster than his best lap, with him sitting in the passenger seat as she did it to more completely witness his own humiliation.

Sabine then added insult to injury by telling Jeremy that she could beat his lap time even driving a van. So when Ford of Great Britain relaunched the Ford Transit, the guys at Top Gear were waiting. To be fair Sabine rose to the challenge and she nearly did it as well. Not quite but almost. Still they gloated. Hilariously she floated past a couple of hardcore bikers really going for it - in a white van, looking for all the world like an electrician popping out for a sandwich.

What I really like about Sabine though is she dispels chauvinistic notions people have, such as that women can't park.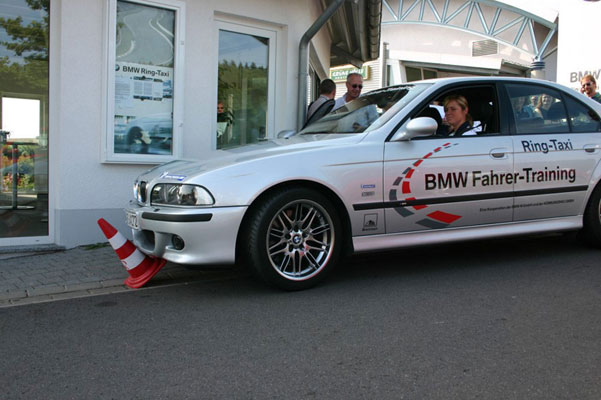 Team Frikadelli picture courtesy of Frozenspeed Motorsport Photography