Compared to previous entries this is a relatively mainstream one. Antony & The Johnsonís second album
I Am A Bird Now
won the 2005 Mercury Music Prize for British artists. But thatís just about the only mainstream element about itÖ
There was some consternation about the Mercury win at the time, since Antonyís links to the UK music scene are tenuous at best (Antony was born in the UK but raised in California, but thatís a stronger link than most of the Irish national soccer team have, so we like all others will let it pass).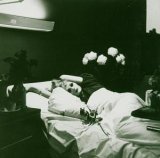 Despite seemingly appearing from nowhere and scooping a major award with his first effort, Antony has (like many overnight successes) been paying his dues for a long time. He moved to New York in 1990 and became involved in the East Village gay scene performing as a drag act. The debut album Antony & the Johnsons was released in 2000 and
I Am A Bird Now
followed in 2005 making a surprise breakthrough into the popular consciousness.
On the face of it, one might expect Antony & the Johnsons to be of niche appeal. The first album is decidely so, and the second is (despite appearances) a little friendlier to the foreign visitor. The album is presented uncompromisingly from the gay perspective Ė the cover of their album is Peter Hujarís iconic 1973 photograph
Candy Darling on her deathbed
. But rather than preach stridently from the Militant Queer gospel, it contains the most incredible songs of love, vulnerability and fear that echo feelings and doubts in the heart of any listener regardless of background or orientation.
Hope there's someone
Who'll take care of me
When I die,
Will I go
Hope there's someone
Who'll set my heart free
Nice to hold when I'm tired

The first standout quality is the music. Every song is good. Antonyís voice is truly unique and perfectly suited to this album of torch songs, each of which has a separate and distinct identity. There are a number of famous collaborators appearing on the album also. Boy George duets on
You are my sister
. Lou Reed introduces
Fistful of Love
, a Northern Soul number which could have come straight out of Detroit or Chicago in the early sixties were it not for its subject matter of brutal love in an S&M relationship:


I accept and I collect upon my body
The memories of your devotion
And I feel your fists
And I know it's out of love
And I feel the whip
And I know it's out of love
And I feel your burning eyes burning holes
Straight through my heart
It's out of love


Itís apposite that the man who gave us
Venus in Furs
should be involved with this modern equivalent. Despite the quality of the music, for me the lyrics are the strongest part of the songs. As one newspaper reviewer put it, the lyrics to
For today I am a boy
will have the most hetero of listeners punching the air and shouting ďYou go, Girl!Ē in support, so eloquently and sparsely does it put its case.


One day Iíll grow up,
Iíll be a beautiful woman
One day Iíll grow up, Iíll be a beautiful girl
But for today I am a child, for today I am a boy


This was the best album I bought in 2005, without a shadow of doubt. Listen to some of the samples on his
website
and discover this amazing artist for yourself.