I Am Kloot are from Manchester and have a silly name (Kloot is Flemish for balls, yes, in that sense) - I'll just refer to them as IAK for the rest of the page.
IAK spring from the same well as Oasis. It's a loose, rough, pub-rock sort of sound, although I don't mean that in a derogatory fashion. This is music the way it used to be made - loud, with guitars, drums and a singer. If these songs were teenagers, they would be hanging around Parnell Street of an evening dressed in slightly scruffy black leather biker jackets and clutching cans of Dutch Gold. Rough and dangerous looking, but not out to cause any trouble for others. Marilyn Manson and Nine Inch Nails would fail to see the marketing angle, probably because the music is very tuneful.
Lead Singer John Bramwell sings with such a pronounced Mancunian accent that you wonder if your car is still safely parked outside or has it been 'liberated' for joyriding around some sink estate. They seem to do a lot of songs about drinking.
Hell for leather, lathered, drunk, you're soused,
You're pissed, you're sunk,
The juke box now is drunk, just along the way.....
I had a call on Saturday to say I'd thrown
My friends away, reversed the charges on 'em all,
I made a lot of calls.

'Storm Warning' from Natural History
Unlike the shameless brothers Gallagher however, there's a real consistency to their work. It's not the most focused work I've ever seen. Some of it sounds like Jools Holland messing around - terribly accomplished and capable but with no fixed purpose in mind. But some of it is great. I got drawn in by the messianic fervour of 'From Your Favourite Sky'
And so what is love
and who am I
to dare to pull the stars
from your favourite sky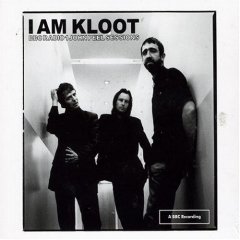 One minute I'm wondering if there might actually be something to this oddly named band, the next minute I own all four of their albums.
Natural History (2001)
I Am Kloot (2003)
Gods And Monsters (2005)
BBC Radio 1 John Peel Sessions (2006)
While not hugely commercially successful (their best selling album only reached No.68 in the UK album charts), the band have certainly had their fair share of difficulties with their record labels. The band apparently had patchy support from Echo Records which published their first two albums, where planned singles were pulled from release at quite advanced stages. This strikes me as a pity, as the singles charts need the competition for the warmed-over cover versions pumped out by reality-TV "winners" that passes for new music these days.
These disputes also left us with 'Proof'. Taken from the 2003 eponymously-titled album, a video was shot starring Christopher Eccleston for the planned release of the single. The label dropped plans for release of the single in physical form (downloads didn't yet qualify for chart status) and the video was orphaned. However, it has become a very low-key internet sensation because of its magical quality, despite the fact that very, very little actually happens in it. But it moves emotionally from confusion, surprise, distance to happiness and acceptance - all in less than 160 seconds. Like
The Brothers Karamazov
all human life is there. Witness and believe.