In November 2006, the film Bobby premiered in the United States of America. It's an ensemble piece written and directed by former Brat Pack founder member, Emilio Estevez who is returning to public consciousness after a long hiatus. The film is a fictional account of the lives of several people present at the time Senator Robert F. Kennedy was assassinated on 6 June 1968. The marketing effort for it is about to gear up in Europe and your author confidently expects to be inundated with a number of retrospectives and remembrances appearing in the press in coming weeks. At least it'll be a respite from reading about manufactured reality television sensations and the corrupt dealings of mendacious politicians.

Don't get me wrong, I love the fact that we have a free and relatively active press, but I'm becoming so jaded these days that sometimes I don't even believe myself. Do you remember a simpler time before we all had to have a degree in Media Studies in order to cut through the spin and decipher what was really happening.

In truth, there was no kinder, gentler age. People were lied to back then as well - it's just that it could be hidden behind ingrained cultures of secrecy and class-based subservience. Knowing your place meant exactly that and no more.


"Moral courage is a rarer commodity than bravery in battle or great intelligence. Yet it is the one essential, vital quality of those who seek to change a world which yields most painfully to change."
Politics had a slightly different focus back then, however. Equal rights for minorities in the United States had been bedded down as a concept if not a universally-accepted practice. Known variously as 'Bobby' or 'RFK' depending on what your standing was within the Democratic Party (Republican Party members called him a host of other names, none of them suitable for repeating here), the Senator had just won the Californian primary and was passing through a service area in the Ambassador Hotel in Los Angeles in the early hours of 5 June 1968 to greet supporters gathered in the kitchens when he was shot in the head by 24 year old Palestinian, Sirhan Sirhan who fired eight shots at him.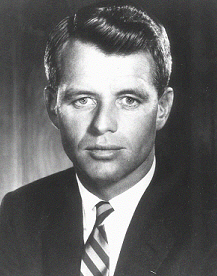 RFK was born in 1925, the seventh child of Joe & Rose Kennedy. He earned a law degree from the University of Virginia in 1951 and went to work for the Internal Security Division of the U.S. Department of Justice. In 1952 he went to work for Senator Joe McCarthy on the U.S. Senate's Permanent Subcommitte on Investigations.

In late 1959 he left his position as chief counsel of the Senate Labor Rackets Committee in order to run his brother John F. Kennedy's successful presidential campaign. Following his brother's election, he served as Attorney-General and devoted considerable effort to the prosecution of organised crime and the establishment of civil rights (Racial segregation had only been established as a legal decision some six years earlier and was taking some time to filter though as a practice).


"We will not stand by or be aloof. We will move. I happen to believe that the 1954 Supreme Court school desegregation decision was right. But my belief does not matter. It is the law. Some of you may believe the decision was wrong. That does not matter. It is the law."
In September 1962, he sent U.S. Marshals and troops to Oxford, Mississippi, to enforce a Federal court order admitting the first African American student, James Meredith, to the University of Mississippi. Robert Kennedy saw voting as the key to racial justice, and collaborated with Presidents Kennedy and Johnson to create the landmark Civil Rights Act of 1964.

After the assassination of his brother, Robert Kennedy stayed on as Attorney-General under Lyndon Johnson, but left shortly thereafter to become Senator for New York. In 1966 he undertook a controversial tour of South Africa in which he championed the cause of the anti-Apartheid movement.


"Each time a man stands up for an ideal, or acts to improve the lot of others, or strikes out against injustice, he sends forth a tiny ripple of hope...."
In 1968, President Johnson began to run for re-election. Following the launch of the Tet Offensive by the North Vietnamese, he ran into trouble in the primaries, only narrowly beating the little-known Senator Eugene McCarthy in New Hampshire. Following this poor showing RFK announced his candidacy on 16 March 1968 and the President withdrew from the race some two weeks later.

RFK's support was drawn primarily from African-Americans and the working class. He campaigned on an agenda of social and economic justice and was regarded with some suspicion by business interests.


"The essential humanity of men can be protected and preserved only where the government must answer - not only to the wealthy, not just to those of a particular religion, or a particular race, but to all its people."
His body was brought back to New York, where it lay in state in St. Patrick's Cathedral before the funeral mass. Despite RFK's stated wish to be buried in his home state of Massachusetts, it was decided he should be interred in Arlington National Cemetery alongside his brother John. On 8 June 1968 his coffin was placed on a bier in the observation car of the train. It was found to lay too far down for observers outside the train to see as it passed by, so the coffin was placed on a makeshift platform of chairs.





The train journey from New York takes you down past Newark and Trenton in southern New Jersey, the big city of Manhattan giving way to a more industrial skyline as the train wends its way down to Philadelphia. Crossing the wide Delaware River, the steel and chemical plants of Delaware give way to the rural backwaters of Maryland, a far cry from the prosperity of New York. After the port city of Baltimore, there's a short trip across open countryside again until the train reaches the outskirts of the District of Columbia.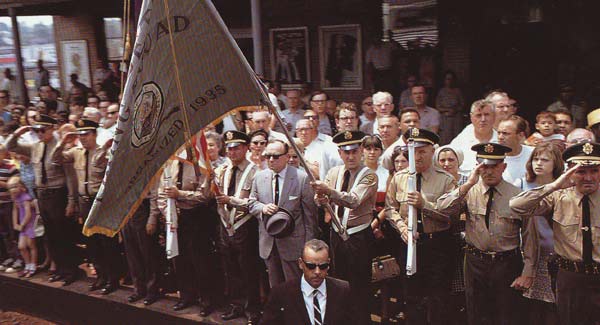 Born in Massachusetts in 1930, Paul Fusco served as a photographer in the United States Signal Corps in Korea. From 1957 to 1971 he was a staff photographer for Look magazine. He was aboard the train as it wound its way down to Washington. He took pictures not of the train and the mourners aboard, but of the people outside - ordinary people who waited for hours, lining the route to catch a glimpse of the casket as it passed by. Ordinary people, urban and rural who stood waiting in their Sunday Best to pay their respects as the train rolled by.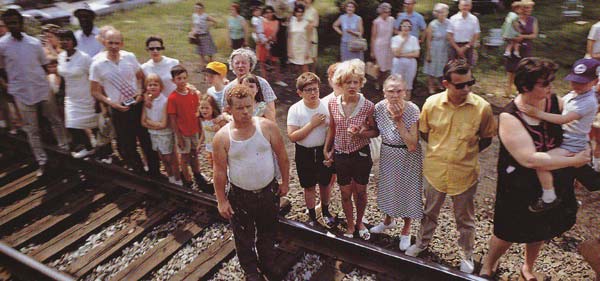 None of these people were famous. None of these people were part of the political establishment. They were just people. People who felt shaken by what had happened to their world. Fusco's pictures were published as a book RFK Funeral Train in 2001. The photgraphs aren't staged. They're fleeting and blurry. They're hurried glimpses of a world passing at a distance. But the emotions of the onlookers leap off the page, raw and unfiltered. Shocked and battling to comprehend how their world has just changed.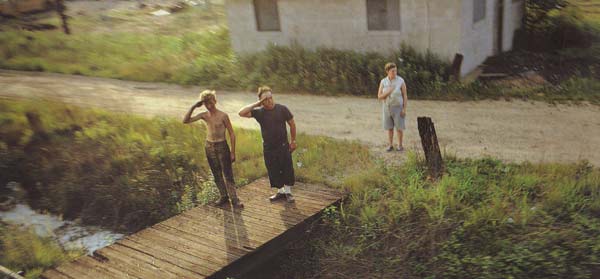 I consider myself privileged to own a copy. It is one of my most valued possessions. I won't need to go see Lindsay Lohan and Elijah Wood in a Hollywood movie to remind me of RFK's achievements and what he meant to people.
All pictures this page © Paul Fusco from RFK Funeral Train
Paperback: 128 pages
Publisher: Umbrage (September 15, 2001)
Language: English
ISBN-10: 1884167055
ISBN-13: 978-1884167058