Flying a few miles off the Mayo coast recently I was struck by how big and empty the sky was to the west. Nothing but roiling sea stretched to the horizon, surmounted by tumbling, menacing grey clouds. This part of the country is where Alcock & Brown landed after their epic transatlantic transit in 1919. As I gazed down at Clifden, I boggled at why any pilot would choose to land there – it's wind-blasted, barren and boggy in equal measure. Scarcely ideal landing grounds but paradise compared to the surroundings at sea.
Further to the south but equally exposed to the tumultuous Atlantic weather, Shannon Airport offers a similar respite from elemental forces for transatlantic passengers to the present day.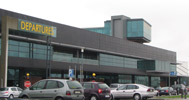 Shannon Airport was set up in the immediate aftermath of the Second World War, when it became apparent that flying boats were an evolutionary cul-de-sac. While great for transatlantic flights they had limited options available to them in the event of an emergency over dry land necessitating a quick landing. Let's not forget engines stopped a lot more frequently then than they do now (the Lockheed Constellation was known for a time as 'the best three-engined plane in the world'). Anyways the massive research & development effort undertaken during the war saw the emergence of civil airliners/military transports which could hop across the Atlantic with a couple of strategically chosen fuel stops.
Shannon was one of those stops. In those days it was known locally as Rinnena and was a flat piece of ground with not too many inconvenient tenants other than the occasional seagull sitting out a patch of bad weather. It sits mere yards from the mouth of the Shannon, where Ireland's longest river flowed majestically along a widening estuary into the Atlantic Ocean. This meant there was no need for sewage treatment – the airport's waste could be pumped directly into the sea, cutting down on infrastructure cost. This sort of carry-on is really an important consideration for Irish planners – and you wondered why we were renowned for our abilities to dig holes rather than for the glory of our architecture.
Thus established with hard runways in the triangular fashion of the time, Shannon made its mark in the annals of aviation history long before flying became a form of aerial cattle-trucking: Le Bourget – Shannon – Gander – Idlewild. Ahh, the glamour!
Always having an eye to the main chance, the denizens of Shannon saw a chance to relieve rich transiting Americans of some of their dollars. Thus was the traditional drink of Irish Coffee invented (really!). Thus was the Airport Duty Free Store invented (again, no kidding!).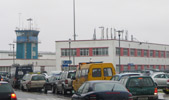 In time, technology showed itself to be Shannon's enemy however. Increasingly, aircraft could make the journey across the Atlantic without intermediate fuel stops and Shannon's traffic waned. Increasingly, its isolated position on an occidental finger worked against it.
Reluctant to see a source of precious regional jobs (and their attendant votes) dissipate, the Irish Government legislated against technology – an act akin to King Canute ordering the tide about, albeit one more popular with voters in County Clare. It became mandatory for all transatlantic flights to stop in Shannon Airport as the designated Irish trans-Atlantic gateway. This piece of idiocy remains in place to this day in slightly modified form. If you live in Dublin, as so many of we Irish do, it is similar to interrupting a long distance car journey at the bottom of your own driveway for a comfort break.
It applies on inbound flights also. Imagine the experience of the first time American visitor who finds their overnight journey prematurely interrupted. At five in the morning local time, their body clocks already beginning to protest at the disjoint, the weary traveller finds themselves forcibly deplaned for a ninety minute layover in order that they may be tempted to spend dollars in a duty free shop they never wanted to visit. Ironically, despite their forcible attendance, they aren't allowed to make any purchases in said emporium even if they should so decide, as the next leg of their flight is domestic and hence not eligible for duty-free status! If you think this makes the foreign visitor irate, imagine how we Dubliners feel. We have our own cosy welcoming beds awaiting us not two hundred kilometres away, having come a distance of several thousand and we are forced to sit in this half-closed airport for ninety minutes despite having spent our conscious lives up to that point avoiding the Limerick area for reasons of personal safety.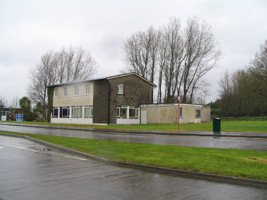 Having failed in their game attempt to persuade foreign airlines to retain the DC-4 as their prime long haul aircraft type and thus guarantee the future prosperity of the Shannon basin region, the Irish Government came up with the idea of the Shannon Free Zone, a novel tax wheeze of the sort the European Commission was created to stamp out. The idea was rich foreign corporations could establish factories in an industrial cluster around the airport, importing raw materials and exporting finished goods without payment of Irish tax. Except for Income Tax and PRSI deducted from all those lovely voters they would be employing.
Needless to say, it didn't quite work out like that. Sean Lemass' dream of an industrialised Shannon and three safe Clare seats next time out hasn't quite worked out as intended. Shannon Free Zone is a sad reminder of how we saw the future in the 1960s. All Northlight roofs and pebble-dash exteriors, like a countryside bungalow on steroids. There are no steel mills or shipyards (not that you'll find too many examples of either anywhere in Europe these days). Ireland skipped an evolutionary step and went straight to software development and financial services to power the Celtic Tiger. Shannon Free Zone remains as a sad and slightly embarrassing reminder of the original plan A.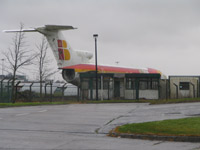 Still it has some successes. Two of the world's largest aircraft lessors have bases there – AerFi and GE Capital. They operate from small neat offices, with small neat professional staff and could relocate anywhere else in the world the moment that the tax regime or the Irish Aviation Authority turned against them. Aircraft maintenance has also been a success with Lufthansa Technik having purpose-built facilities dwarfing the old Shannon Repair Services hangar. Even local airtaxi outfit Westair has a shining new hangar which makes their previous quarters look like an outdoor privy.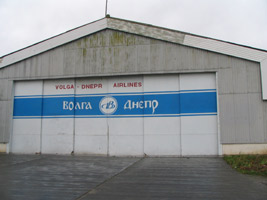 But these are Darwinistic creatures, adapting to their environment to survive. In reality, Shannon Airport is a dismal place, located on the very edge of the European disc. Paradoxically, that is why it has always held a certain magic for me. Despite being in the wilds of Ireland, it's very American in its nature, perhaps because so many of those that walk its halls were in Newark a few short hours ago and haven't yet adapted to the fact that they're literally not in Kansas anymore.
Stuffed on a back shelf beside an open window in the catering area, you'll find fresh unopened boxes of Continental Airlines plastic courtesy goblets (three words that really don't belong in close proximity to each other). You'll find the occasional immersion-suited ferry pilot stepping out of a minute Cessna, delirious from lack of sleep and overdosed on caffeine in order to get their tiny charge across the pond and spare it the rigours of shipping by container. You'll find passing military transport pilots from foreign lands strutting their stuff in the halls – looking exotic and hard as nails. You'll find corporate titans beached for a fuel stop peeking nervously out the door of their Gulfstream like small children.

All human life is there. And yet, the locals have started to reclaim Shannon as their own. Shannon is going from low rent to low fares. Ryanair offer flights from Shannon to twenty-five destinations – the majority are its hubs in the UK but there are three in each of France, Italy and Spain as well as two in Poland. Truly Ryanair has become our national flag-carrier, usurping Aer Lingus' birthright. Like Shannon itself, it takes a very different form from that originally envisaged but if it works…