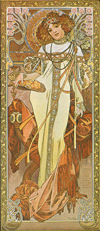 Alfons Maria Mucha was born on 24 July 1860 in Ivančice in Moravia (also known as Eibenschitz). His father worked as an usher for the local court and was horrified at the idea that his youngest son would become an artist – he was intended instead for the priesthood. As a compromise, he worked for two years as a court scribe in Ivančice, before becoming an apprentice scene painter in Vienna in 1880. When this employment folded, he became court painter and restorer for Count Carl Khuen in the small town of Mikulov (Nikolsburg) in South Moravia. This led to an offer to study in Munich and Mucha departed there in 1885. After two years study in Germany the Count encouraged Mucha to continue his studies in Paris at the Académie Julian and later the Académie Colarossi.
Having been so well set up, the termination of his allowance from the Count in 1899 led to commercial work as an illustrator to put bread on the table. His big break came on Christmas Eve 1894. Mucha was at the Lemercier printing works correcting proofs for a friend when the famous actress Sarah Bernhardt telephoned. She was unhappy with the posters which had been prepared to publicise her appearance in the play Gismonda and demanded that new posters be ready by New Years Day. As sole artist in the immediate vicinity, Mucha was handed the commission. The poster was a success and catapulted Mucha to notice. Bernhardt was so happy with the work that she negotiated a six-year contract with Mucha during which time he produced nine posters for her.

During this phase, the printer Champenois secured an exclusive right to print Mucha's work in return for a (pretty generous) salary for the painter. While many of Mucha's works known to us were advertisements, there are also the panneaux decoratifs, essentially the same sort of picture but without bespoiling text, printed on satin. These arose out of the Champenois relationship and were as numerous as they were commercially successful. Champenois believed in getting his money's worth. Mucha became increasingly overwhelmed with the demands of this work and found less and less time to oversee and correct the printings. The high quality satins are quite rare and a large quantity of surviving Mucha work would have been cheaper editions printed on paper, discolouring over time and probably off-register on creation.
Look I know there's a heap of stuff on the InterWeb already about Mucha and I'm not going to add much by way of scholarly research; but trust me, I'm heading somewhere with this over the next couple of weeks....
to be continued....